SYNOPSIS: Unprecedented times force two fierce rivals to come face to face, for the first time in over a decade, to close a deal for the most valuable substance on earth.
RUN TIME: 7:26
DIRECTOR'S STATEMENT:
$TACK$, at its core, is a film that holds a mirror up to every viewer and every member of our society offering them the opportunity to see the best and the worst in themselves. Upon first view almost everyone misses the stinging social commentary and myriad of clues teasing the audience as to what's truly unfolding on screen, purposefully daring them to confront the judgments and assumptions in their own minds. What judgments will you make and how will they affect your views of Magdalena, Hector, Ty, Rube, Momo, and Jordan? In the end, what do those judgments reflect within you?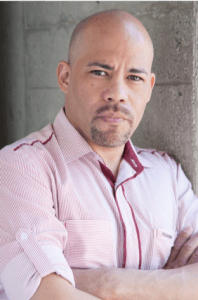 DIRECTOR/ WRITER / PRODUCER GERALD WEBB:
Gerald directed, wrote, and produced $TACK$. While the film marks Webb's directorial debut, the Daytime Emmy Award-nominated and eleven-time Telly Award-winning producer, actor and former casting executive is no stranger to filmmaking. He has produced 35+ films, cast 100+ films and has portrayed roles in over 150 films and television shows including BARRY, LA'S FINEST, BULL, CRIMINAL MINDS: BEYOND BORDERS, IT'S ALWAYS SUNNY IN PHILADELPHIA, AGENT CARTER, 9-1-1 and many more.
In 2012, Gerald co-founded the production company, DeInstitutionalized, LLc. The company has produced and delivered films to partners including Netflix, Paramount, Syfy Network, Lifetime Network, ION Television, Saban, and Cinedigm. Gerald also executive produced DeInstitutionalized's new scripted digital series, FraXtur.
Prior to co-founding Deinstitutionalized, Gerald through his other company, Transformation Films, cast 100+ feature films including Syfy network's mega-hits SHARKNADO 1-3 and the first season of Syfy's series Z-NATION. Gerald worked his way up to the executive position of Director of Talent for The Asylum Studios, producers of Sharknado and Z-NATION. He immediately went to work to transform the diversity of the studios' films. Under Gerald's guidance, star name casting for The Asylum's films grew by 380% and diversity in casting across all categories more than doubled.
In 2019, Gerald Webb was nominated for a Daytime Emmy Award as a producer on Amazon's THE BAY. He's also garnered 7 Telly Awards in 2018 for Circus Kane and two in 2019 for 2nd Chance For Christmas. Gerald is a member of the National Academy of Television Arts & Sciences, The Screen Actors Guild (SAG/AFTRA) and the National Association of Television Program Executives (NATPE).
In 2022, Gerald was asked to executive produce three films for Candy Rock Entertainment and Red Rock Entertainment. Two of the films, A CHRISTMAS PRESENT and CHRISTMAS ON CANDY CANE LANE were acquired by Great American Family Network.  The third film, UNSUNG, is slated for a fall 2024, wide theatrical release by Lionsgate Pictures. Production of those projects went so well, Candy Rock Entertainment named Gerald their Executive in Charge of Production in early 2023.
.
The Chicago native spent 11 years in the US Navy and served in Iraq in 2005. Upon moving to Los Angeles, Thomas attended Columbia College Hollywood, graduating Magna Cum Laude with a BFA in Cinema Arts. He wrote and directed the feature film ANOTHER TIME, starring Justin Hartley and Arielle Kebbel. Thomas has served as a cinematographer and in the camera department for over 50 films and TV shows. He is the Cinematographer for the documentary BROTHERS AT WAR II, directed by Jake Rademacher and Executive Produced by Gary Sinise, and the feature film 20 MINUTES scheduled for release in 2020.
Jeff is a member of the Motion Picture Editors Guild and Television Academy. He's worked on over 120 feature films and is the editor on the "#1 Preschool kids show in the country", RYAN" MYSTERY PLAYDATE. He was also the lead editor for 76 episodes of Nickelodeon's Emmy Nominated hit series MUTT & STUFF and 7 episodes of Amazon Studios' SIGMUND AND THE SEA MONSTERS, produced by the legendary filmmakers Sid and Marty Krofft. He is also the Visual Effects Supervisor for NBC's  PUNKY BREWSTER, Disney's COOP AND CAMI ASK THE WORLD, and Disney's EARTH TO NED. Jeff also recently edited and post supervised Universal Studios' feature Justice.Jeff graduated Magna Cum Laude from Columbia film school and now teaches Motion Picture Editing and Visual Effects at Los Angeles Valley College. He is also the founder and co-owner of the award-winning post-production studio, Quest Pacifica LLC.
The multi-hyphenate musician, DJ and remixer is a Billboard reporting DJ who's remixes have topped the Billboard Dance charts. He's also a founding member of the band Engine No.9. Knappy and $TACK$ director, Gerald Webb, were in the hip-hop group One a.d. in the 1990s. Knappy previously scored A HOUSE IS NOT A HOME.
Ken is a graduate of California Pacific School of the Arts and the Los Angeles Film Academy. He works consistently on independent feature films and commercials as a DP and editor.
You may recognize two time Emmy® nominated Mark Christopher Lawrence from his series regular role as Big Mike on NBC's CHUCK or from studio films like Pursuit of Happyness, Terminator II and Fear of a Black Hat or possibly from his Drybar comedy special clips that have amassed over 18 million views. The veteran actor and stand-up comedian is the 2012 recipient of the San Diego Critics Circle's Craig Noel Award for Outstanding Actor Of The Year. He's an international headliner that has worked with the likes of Sinbad, Jerry Seinfeld, Rodney Dangerfield, and Jeff Foxworthy.
This past holiday season Mark appeared in Christmas movies for "One Fine Christmas" for the OWN network and Deinstitutionalized Films' "2nd Chance For Christmas." Mark can also be seen on BLACK JESUS, recurring on PureFlix' Malibu Dan The Family Man, Disney Channel's original TV movie Life Is Ruff, Lab Rats, Good Luck Charlie, Heroes, Weeds, My Name Is Earl, Reba, Grounded for Life, Crossing Jordan, Amazing America with Sarah Palin. He just released his hilarious talk show PURE COMEDY on Pureflix.com. Mark also served as an associate producer on $TACK$.
Meredith is a talented actress and producer. She's appeared in over 100 film and television shows including  A Christmas in Vermont with Chevy Chase, The Wrong Boy Next Door with Vivica A. Fox. In 2018 she created and now produces the yearly FYC Independents, an Emmy® consideration platform for independent talent and content. FYC Independents has helped lead to 16 Emmy® nominations including the first African American couple to be nominated in the same year for a Primetime Emmy and the first transgender actor to be nominated for a Daytime Emmy.
Download the $TACK$ Press Kit here: